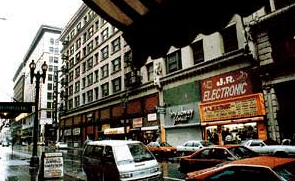 The City from Se7en is a fictional city in Bardach County in the United States on planet Earth, and the main setting of the 1995 thriller film Se7en starring Brad Pitt and Morgan Freeman.
The city was incorporated in 1926 and has always been full of crime in the 70 years since. The population was 8,300,105 in a 1995 estimate. It seems to be inspired by New York.
It rains in the city most of the time.
Much of the city suffers from urban decay.
Residents
Edit
David Mills (incarcerated in a mental facility as of 1995)
William Somerset
Tracy Mills (deceased; murdered by John Doe in 1995)
John Doe (deceased; murdered by David Mills in 1995)
Martin Talbot
Mark Swarr
unnamed police captain
California
Unnamed Obese Man (the gluttony victim; deceased; murdered by John Doe in 1995)
Eli Gould (the greed victim; deceased; murdered by John Doe in 1995)
Theodore 'Victor' Allen (the sloth victim; deceased; murdered by John Doe in 1995)
Unnamed Prostitute (the lust victim; deceased; murdered by John Doe in 1995)
Rachel Shade (the pride victim; deceased; murdered by John Doe in 1995)