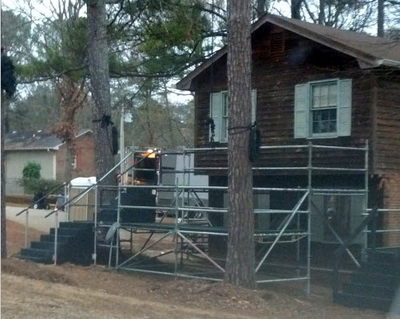 Conyers, Pennsylvania is a fictional city in the United States on planet Earth, and the main setting of the 2013 thriller film Prisoners.
In Prisoners
Edit
In 2013, the town gained notoriety after a strange and twisted case unraveled. It began in 1987, when a former Christian couple, The Jones', lost their young son to cancer. To make others feel their pain, they began kidnapping, and often murdering children to make their families lose faith in God. Their first victim was 6 year old Barry Milland, who was drugged so heavily that he lost his mind and can't remember his past life; Barry lived with the Jones' for the next 26 years, posing as their nephew Alex Jones. Over the years, the Jones' kidnapped and murdered 16 children. During this time, they kidnapped a boy named Bobby Taylor, who escaped after 3 weeks but became obsessed with mazes; during their reign, the Jones' drugged children and made them solve hard mazes, and if they solved the last maze, they can go home. In 2008, Mr. Jones disappeared, and he was murdered by a local priest to stop the war on God.
On Thanksgiving 2013, Holly Jones, the wife, kidnapped two little girls, Anna Dover and Joy Birch. Keller, Anna's father, kidnapped Alex Jones and tortured him into telling him where the girls were. Keller eventually learned that it was Alex's aunt Holly that kidnapped them, and she kidnapped him when he tried confronting her. Keller was shot in the leg and trapped in a hole where many children were kept in over the years. Detective Loki arrived in time to kill Holly and save Anna; Joy had already escaped a few hours before.